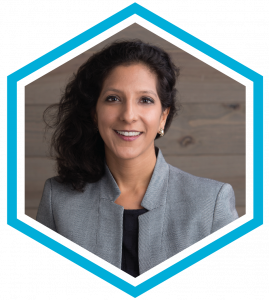 Arati Shroff '98, recipient of the 2019 IMSA Alumni Distinguished Leader Award, is a career U.S. diplomat and Asia policy expert.
She is currently the Deputy Economic Counselor at the American Institute in Taiwan where she leads and manages a dynamic team to advance U.S.-Taiwan cooperation across tech supply chains, cybersecurity, innovation, trade, environment, and health.
She was previously posted to Hawaii as an Una Chapman Cox Fellow and East-West Center Adjunct Fellow, where she advised the U.S. Indo-Pacific Command on China's investment in emerging high tech sectors. In her previous assignment, Arati advanced U.S. policy at U.S. Consulate Shanghai during China's host year of the G-20. She previously served in Washington, D.C. in the Department of State's Bureau of South and Central Asia and at U.S. Embassy Kuwait. She started her Foreign Service career as an intern at U.S. Embassy Beijing during China's accession to the World Trade Organization.
Prior to her diplomatic career, Arati worked at investment banks in Hong Kong and New York, originating capital markets' solutions in developed and emerging markets. She was previously a consultant with the World Bank Group in India and a TechnoServe Fellow in Tanzania, where she helped socially responsible enterprises gain access to start-up capital.
Arati serves as an advocate for international women's issues and was previously an advisor to the Ladies Who Tech Asia Chapter, Board Member of the International Professional Women's Society (IPWS), and a podcast interviewer for the SAIS Women's Alumni Network (SWAN). Arati has led cross-cultural teams to advance women's empowerment and gender equality worldwide. In China, she collaborated with local and international organizations to promote female entrepreneurship and implement China's anti-domestic violence law. She further helped propel a multi-stakeholder approach to improve worker safety for Bangladesh's garment workers, who are predominantly women.
Arati earned a B.A. from the Johns Hopkins University and an M.A. from the Johns Hopkins School of Advanced International Studies (SAIS). Arati enjoys pursuing a holistic approach to life through yoga, meditation, and spending time outdoors with her husband and two kids.