We're here for You!
The IRC team is here for you and your students – let us know how we can help!
Integrating Research Skills into the IMSA Curriculum
The IRC customizes research skills sessions for individual classes across the curriculum. We can present these in your classroom or in the IRC classroom.
See Connie James-Jenkin or email us.
In collaboration with the Science faculty, the IRC delivers research skills classes for all sophomores through the Methods in Scientific Inquiry curriculum.
Goal: Equip each sophomore with basic research skills which will introduce them to the research process and help them become efficient searchers, allowing more time for critical thinking.

Method: In conjunction with a research assignment we demonstrate and provide "hands-on" experience with the following skills:

Distinguishing between primary and secondary sources
Finding books and media in our system
Finding journal articles and other sources in our research databases
Expanding search strategy skills
Evaluating and citing sources
Checking Out IRC Materials
Your IMSA ID is your "library card" at the IRC and 90+ university libraries in Illinois. There is no limit to the number of items that may be checked out.
Create an IRC Catalog account for renewals and Interlibrary Loan requests:
From the IRC home page, select "My Account" (next to "Catalog" on left side)
Select "Create New Account" (below "Login")
Fill in both "Basic Information" and "Library Account Information"
Make sure to type your complete IMSA ID number in "Borrower ID (Barcode)"
Choose "Illinois Mathematics and Science Academy"
"Submit"
Then you can login (top, right) and choose "Checked Out Items" to renew (if not overdue ). You can also check the status of your loans and requested items. Materials not returned after the 3rd overdue notice are subject to a lost book charge.
Interlibrary Loan
The IRC is a member of the Consortium of Academic & Research Libraries in Illinois (CARLI), 80 university libraries in IL. Our catalog is linked to the full I-Share catalog.
If you do not find a book you need in our local catalog, use the dropdown menu to search "All I-Share Libraries."
Make sure you are logged into your IRC catalog account and place your request.
For article requests, please use our print or e-forms,or e-mail irc@imsa.edu
Overdue / Lost Interlibrary Loan items are subject to fees by the lending library.
For any questions regarding your library account including fines, fees, and interlibrary loan requests status, please contact Angie Richardson angie@imsa.edu
Collection Development Partnerships
We welcome your suggestions for book and media purchases. We encourage staff, faculty, and students to give us input and recommendations for new materials to support the curriculum and enrich the collections. Contact Connie James-Jenkin (for books) or Jean Bigger (for media) or use our online forms.
Please share your syllabi and research assignments with us.
Classroom
The IRC has a classroom and projector we use for our research skills sessions. The equipment and space are also available for your classes.
See Connie James-Jenkin or email us.
Reserve Collection
There are two Reserve areas for "IRC Use Only" or "Overnight Use" materials. These can be items from the IRC collection or from the faculty member:
Locked case behind Circulation Desk
Open shelves in center of IRC — for class-wide access to IRC resources on a topic
See Angie Richardson or email us.
Preventing Plagiarism
Printing and Scanning
The library has a Xerox color printer that is available for general academic use. Students who would like a large format printout for a classroom project are encouraged to print to this printer using the available tabloid (11″ x 17″) paper.
A ScanEZ station is located in the PC lab near the east entrance to the library. Functionality includes:
high speed scanning, copying, and faxing
optical character recognition software
restoring old, faded photos and documents with Vivid-Pix software
translating from text and audio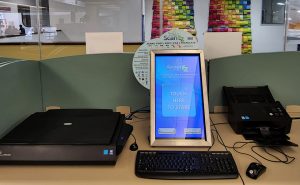 Additional resource links and information